Purchase a ready designed Super Lodge
Looking for a dream holiday home to escape the hustle and bustle of everyday life? Look no further than our ready-designed super holiday lodges. Perfect for placing on a serviced plot at Hendre Rhys Gethin.
Nestled in the heart of Snowdonia National Park, Hendre Rhys Gethin is an idyllic location for those seeking a peaceful retreat in the midst of stunning natural beauty. A super holiday lodge is the perfect way to enjoy all that this breathtaking landscape has to offer, without sacrificing any home comforts.
We have handpicked a selection of the best lodge manufacturers for you to choose your favorite models. Our ready designed holiday lodges are fully-furnished, luxurious retreats, complete with stylish furniture, comfy beds, integrated appliances and the likes.
With its spacious living areas, modern kitchen and dining area, and comfortable bedrooms, these holiday homes are the perfect place to relax and unwind with family and friends. You can enjoy a lazy breakfast on the decking while taking in the stunning views of the surrounding mountains or spend an evening curled up in front of the fireplace with a good book.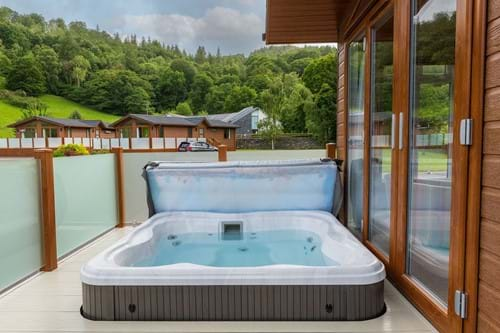 And when it's time to venture out, Hendre Rhys Gethin offers plenty of opportunities for adventure and exploration. Hike to the summit of Snowdon, go kayaking in one of the nearby lakes, or simply take a leisurely stroll through the beautiful countryside.
Whether you're looking for a weekend getaway or a long holiday, our super holiday lodge is the perfect choice. And with its prime location at Hendre Rhys Gethin, you'll have all the amenities and attractions of Snowdonia National Park right at your doorstep.
So why wait? Acquire your dream holiday home today and start enjoying the best that Snowdonia has to offer! Contact us now to learn more about our ready-made super holiday lodges at Hendre Rhys Gethin.