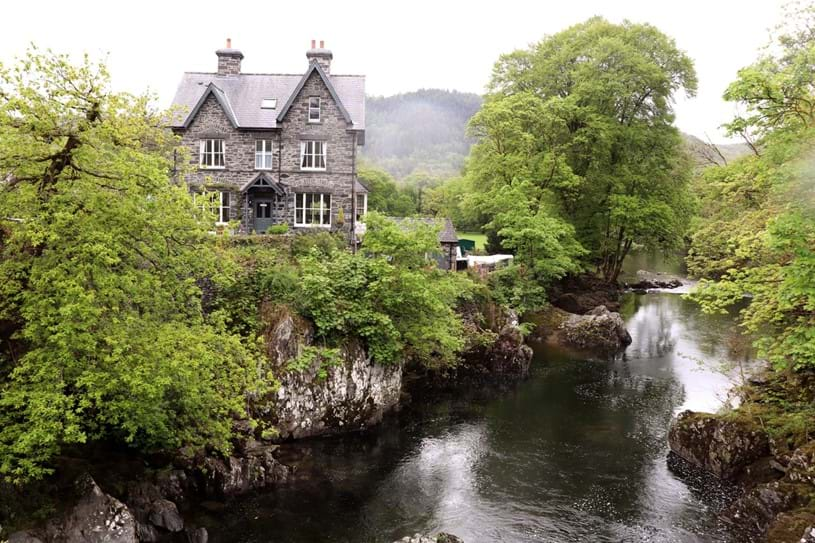 A typical day out pottering around the alpine village of Betws-y-Coed.
Hendre Rhys Lodge Park is the perfect base to explore Betws-y-Coed, a charming village nestled in the heartland of Snowdonia National Park in North Wales. If you're looking for a peaceful and relaxing short break, then Betws-y-Coed is the perfect place to unwind and immerse yourself in nature, and there's plenty to do in and around the village. In this blog, we'll take you through a typical day out for guests staying at Hendre Rhys Gethin.
Imagine starting your day off with a fresh, flaky croissant from the local bakery and a steaming cup of freshly ground coffee on the wrap-around veranda. As you take in the stunning views of the surrounding countryside, the sweet chirping of birds in the trees and the gentle trickle of the nearby stream provides a soothing backdrop to your peaceful morning routine, the perfect way to set the tone for a relaxing day exploring the village.
After breakfast, take a leisurely stroll through the village center, enjoying the charming local shops and cafes. Betws-y-Coed is a hub for outdoor enthusiasts, so you'll find plenty of shops selling hiking gear and outdoor clothing, as well as gift shops selling locally-made crafts and souvenirs.
Be sure to pick up some snacks for your walk, as you'll want to take a scenic riverside route up to Swallow Falls. This stunning waterfall is roughly 7km from the village center, and the walk along the river is a highlight of any visit to Betws-y-Coed, alternatively take a shorter circular route up to Miners' Bridge then return to the village.
As you make your way along the river, you'll see stunning views of the Welsh countryside, with sheep grazing in fields and the sound of the water flowing alongside you. It's the perfect way to connect with nature and take a break from the hustle and bustle of everyday life.
Once you reach Swallow Falls, take your time admiring the natural beauty of this breathtaking waterfall. Take some photos to remember the moment, and enjoy the peace and quiet of this tranquil spot.
After your walk, it's time for a well-deserved lunch at one of Betws-y-Coed's many quality cafes, pubs and takeaways. Try the Alpine Coffee Shop, a cafe with a conscience for a light bite or The Stablau Bar is perfect for a quick lunch with a menu full of local produce or the Hangin' Pizzeria is a firm favorite with guests and locals. If you're looking for something heartier, you can also visit one of the many pubs in the village, which serve up traditional pub grub with a wide selection of drinks.
After a day of exploring, why not head to one of the local bars and try some of the region's famous craft ales or gins? There are plenty of cosy pubs in the village where you can relax and unwind with a drink and some good company. If you're feeling adventurous, take a night-time walk through the woods and stargaze under the clear Welsh skies, Snowdonia is a designated international dark sky reserve.
If you're looking for a more formal dining experience, the Ty Gwyn Coaching Inn, The Royal Oak and Craig-y-Dderwen offer a superb evening meal. The Ty Gwyn Coaching Inn is a traditional Welsh coaching inn that dates back to the 17th century, while Craig-y-Dderwen is a hotel and restaurant located in a beautiful Victorian house with stunning views of the river Conwy.
After dinner, head back to Hendre Rhys Gethin and relax in front of the fire with a glass of wine or a hot cup of cocoa. Take in the peaceful surroundings and enjoy a good night's sleep, ready for another day of exploring the beautiful Welsh countryside.
In conclusion, Betws-y-Coed is a wonderful destination for a peaceful and relaxing holiday, and Hendre Rhys Gethin is the perfect place to stay while you're there. With plenty of outdoor activities to enjoy, charming shops and cafés to explore, and cosy pubs and restaurants to unwind in, there's something for everyone in this beautiful part of Wales.