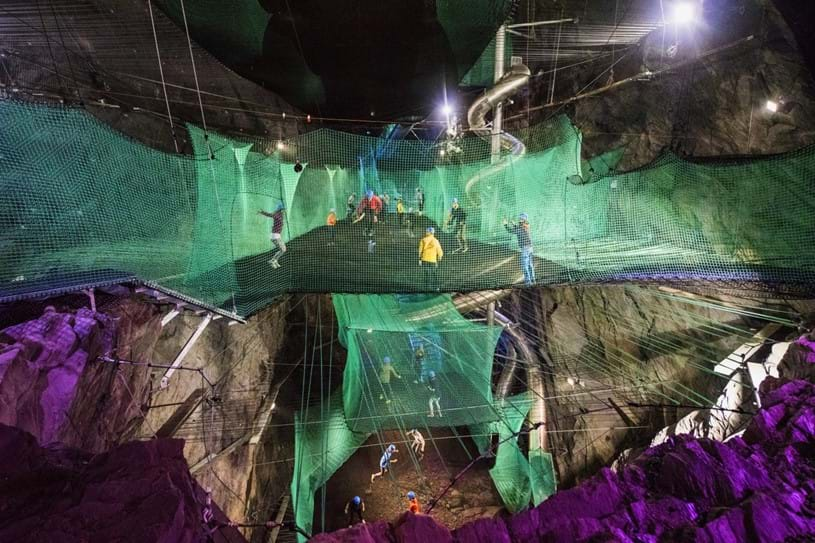 Zip World Llechwedd: The Ultimate Underground Adventure Park in Snowdonia
Zip World Llechwedd is an adventure park located in the heart of Snowdonia, North Wales. The park is situated in an old slate quarry that was once the largest in the world, and it has been transformed into an adrenaline-fueled playground for thrill-seekers.
Zip World Llechwedd is home to the world's largest underground trampoline, Bounce Below. This unique attraction is located deep within the slate caverns and features a series of giant trampolines, slides, and walkways suspended above a giant abyss. It's an experience like no other, and visitors are guaranteed to have a bouncing good time.
But Bounce Below is just one of the many attractions at Zip World Llechwedd. The park is also home to Zip World Caverns, an underground adventure course that will have visitors climbing, crawling, and ziplining through the caverns. It's a challenging course that will test even the most adventurous of souls.
For those who prefer to stay on/in the ground, Zip World Llechwedd also offers an 18-hole underground golf course. This indoor miniature golf course is set inside an old slate mine, which has been transformed into a golfing wonderland. With 18 challenging holes, including some tricky obstacles, it's a great activity for families and groups of friends. The course is suitable for all ages and abilities, and the dim lighting and eerie surroundings add to the excitement.
But the fun doesn't stop there. Zip World Llechwedd also offers guided tours of the slate mines, giving visitors a fascinating insight into the history of the quarry and the local area. The tours take visitors deep into the heart of the mountain, where they can learn about the life of the quarrymen and see the tools and equipment they used to extract the slate.
And if all that adventure leaves visitors feeling peckish, there's no need to worry. Zip World Llechwedd has a café on site that serves up delicious food and drinks, so visitors can refuel before heading back out for more fun.
Zip World Llechwedd is a must-visit attraction for anyone looking for an adventure. With its unique underground attractions and fascinating tours, it's a park that is sure to thrill and excite visitors of all ages. So why not head to North Wales and experience the adrenaline-fueled fun for yourself?