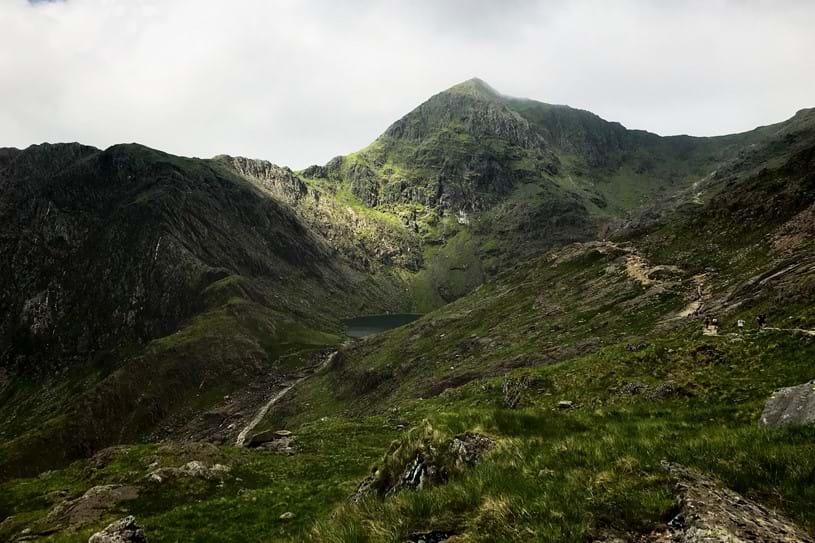 Exploring Eryri: What to look out for in Wales' largest national park
When you're staying at a Hendre Rhys Gethin luxury lodge or cottage you're already immersed into the heartland of the beautiful Eryri (formerly Snowdonia) National Park so it makes sense to make the most of your visit to Wales' largest national park.
In this blog we breakdown how to get around, sites to see, activities to undertake and a few hidden gems that might take you off the beaten track and into some of the quieter, lesser-known beauty spots that Eryri has to offer – all within touching distance of your Hendre Rhys Gethin accommodation.
Transport around Eryri
Eryri is popular, really popular. An estimated 10 million people visit every year with most descending on the highest peak, Yr Wyddfa (Snowdon), between April and September so it's important that if your visit is during this time you plan your transportation – Eryri wasn't built for cars you know!
With limited parking the best way isn't always to travel by car and if you don't want to disturb the locals, or have your car at risk of being towed away, it's wise to avoid stopping off in residential areas or on the sides of some of the main roads around Eryri.
You may be better off (and find it a more enjoyable experience) using some of the more sustainable transport options around the national park. Bus services like the Sherpa'r Wyddfa bus or Traws Cyrmu T10 can get you to most top attractions, while the train lines also offer spectacular views of the Welsh mountainside.
There are the Cambrian and Conwy Valley train lines for your standard fare, or, for a more unique experience, consider using the Welsh Highland Railway or Ffestiniog Railway (our first hidden gem below) that use steam engines to pull you through the picturesque surroundings while you sit back in luxurious quarters.
Of course, for those more mobile, our lodges are situated close to many inspiring destinations, walking and cycling routes that you can get to on foot or by hiring an eBike from one of the many bike hire companies available in Eryri.
Eryri Walking trails
If you are venturing out from our lodges on foot, there are an endless supply of popular trails to pick from. While there are many you can pick up straight from your door, here are a few others that offer a range of pleasant to challenging walks – all with spectacular views and vibrant landscapes:
Consider trying; Coed Tan Dinas, Cyrau Walk, Llyn Parc Walk, Llyn Elsi Walk or Pen yr Allt Walk (see hidden gems).
As there are so many possible routes to choose from though, it is advisable to plan your journey in advance because you may well be able to tie up other sights on the way – and there's no way of being able to complete all the best walking trails on one holiday!
If you are out hiking in the Welsh mountainside, our Eryri Park Rangers do prefer if you avoid using barbecues when out. Not only are they a risk of starting wildfires but also much of the national park's land is privately owned so you'd need permission from the landowner first.
Cycling and mountain biking
As with all of the walking options in Eryri, there are also a countless number of cycling and mountain bike trails for both the leisurely and experienced cyclists.
If you're looking for a gentle coast through the countryside, or are bringing family members that are particularly young or old, then the Mawddach Trail and Lôn Gwyrfai are perfect for families and leisure cyclists who want a lower difficulty of terrain.
For more experienced cyclists or those looking for a challenge, both Beddgelert Forest and Gwydir Forest Park offer more complex routes while taking you through the luscious Welsh fauna.
Finally, if you want to enjoy a kid-friendly or mountain bike-centric stay then consider going to the Coed y Brenin Visitor Centre near Dolgellau. It's perfect for older kids with lots of play areas and mountain biking routes for all levels of riding ability.
Castles in Eryri 
You can't visit Wales and not see a castle (it's actually challenging to avoid them!). But why would you? The spectacular range of medieval stone-built fortresses still kindles the imagination today and are perfect stopping point for an exploration of Welsh history.
There are a number of castles in the Eryri National Park to choose from; Dolbadarn, Carndochan, Bere, Dolwyddelan (see hidden gems) and Harlech – each with their own unique history.
On top of this you have other fascinating historical structures from Cymer Abbey, Yr Ysgwrn and Tŷ Mawr Wybrnant to Tomen y Mur – a Roman fort built in78 AD by General Gnaeus Julius Agricola.
Before you do visit one of these awe-inspiring structures, do ensure you check online for opening times as some locations do have limited availability.
Eryri Lakes and Fishing
There are 389 natural lakes in Wales with 250 of these residing in Eryri, and for those who like nothing better than taking time out with a spot of fishing, our lakes are a haven for a wide range of fish including; various types of trout, perch, rudd, pike, char, salmon and more.
Some of the 'hot spots' to aim for on your trip include:
Llyn Trawsfynydd – a reservoir that provides an excellent location for fishing trout, perch and pike

Llyn Tegid – the largest natural lake in Wales and popular for multiple water activities if you want to also amuse the family

Llyn Cwellyn – a 120ft deep reservoir with free-rising brown trout

Mawddach – a river that could be an ideal spot for salmon fishing

Llyn Dywarchen – see our hidden gems
If your penchant is more for water sports and high octane activities then these locations will be more to your taste; Llyn Tegid, Llyn Padarn, River Tryweryn, Llyn Gwynant, Aberdyfi Beach and Barmouth Beach. There's no hidden gems among them and they all get busy during the high season, but you'll not be bored from all the activities you can take part in. (do remember to check the tide times before your trip!)
Eryri's Main attractions
A guide to exploring Eryri wouldn't be complete without the main attractions, although you may well know them already from your own research so we'll just touch on them briefly here.
Up front, Yr Wyddfa, you can't avoid it – almost literally. The highest mountain peak in Wales is accustomed to visitors so we don't blame you if you venture out to enjoy the spectacular views yourself. One top tip is to get the Yr Wyddfa Walks App to help guide you into different ways around the mountain.
If you're not fit enough to challenge the peak yourself, you can always use the Snowdon Mountain Railway or Sherpa'r Wyddfa bus to get around. The mountain railway has been running since 1896 with several stations available on the way and a myriad of unforgettable views.
Near the top you'll find Hafod Eryri - the highest visitor centre in Wales (1065m above sea level). The centre has won several awards for its design from granite and oak (constructed to survive the challenging conditions of the summit) including the Royal Institute of British Architects Award in 2010.
Finally, for the adrenaline seekers there's Zip World. Featuring a range of adrenaline pumping activities from zip-lining, tree-top walking, underground trampolining and the new Fforest Coaster it's packed with plenty to do for busy families.
The three sites across North Wales (Penrhyn Quarry, Llechwedd Slate Caverns and Zip World Fforest right by us in Betws-y-Coed) offer multiple opportunities for you to test your mettle, though with high popularity and prices, it's definitely one trip to book well in advance.
Hidden gems of the Eryri National Park
Now onto our final section of the exploring Eryri blog and it's our hidden gems! We've teased some of them earlier in the piece, but now we'll tell you why we think you should pencil these in for a visit on your Welsh holiday stay.
Ffestiniog Railway
This steam engine service is a blast from the past and features a 25 mile track cutting through the heart of the Eryri National Park. Steam trains are often overlooked these days but due to the outstanding countryside on view out of the windows of this train, this really is a must-try.
The first stop at Blaenau Ffestiniog is just 12 miles from Hendre and runs all the way to Porthmadog harbour with incredible views of UNESCO World Heritage Site - past the foot of Yr Wyddfa. Our tip? Go first class for the ultimate experience and throw in one of their luxury hampers to enjoy a delicious snack on the way.
Pen yr Allt Walk
Why pick out the Pen yr Allt Walk? Truly there are many great walking routes in the national park but this one if our favourite.
A 7km trip featuring a 357 metre climb, it's not completely for the faint of heart, but worth every step you take. You'll go past mountains, rivers and forests but also wonder at the spectacle of abandoned mines and a ravine-top path. Finally, you'll come across a breath-taking view of Moel Siabod mountain.
Dolwyddelan Castle
Just 7.1 miles from our lodges at Hendre Rhys Gethin this castle is accessible by foot for the eager hikers. Built by Llywelyn ap Iorwerth (Llywelyn the Great, Prince of Gwynedd) – this was one of Conwy's strongholds at the turn of the 13th century before Edward I seized the castle in 1283 and built a new tower that can still be seen today.
The castle opens Friday-Sunday 10am-4pm and, as there's no car parking, it's usually quieter than other venues. An added bonus for this site is that it's also just 5 miles from Tŷ Mawr Wybrnant – the 16th century birthplace of Bishop Morgan who translated the bible into Welsh.
Llyn Dywarchen
Located 21 miles from our lodges, this is our pick of the Eryri lakes. Llyn Dywarchen has been nominated as one of the '60 wonders of Snowdonia' and is also listed as a stargazing location for its night-time beauty. There are also many legends associated with the lake including that of the 'floating island' which you can discover for yourself.
If you're a fisherman, this lake also provides quality fishing for rainbow trout between 2lbs and 5lbs.
Llanberis Infinity Pool
This shallow pool of water overlooking the Llanberis pass cannot be seen from the highway, therefore not everyone is able to locate it (or even knows about it). It was built by local farmer Wyn Mostyn Jones in 2016 as a green energy project but has become a new go-to attraction which is still building its reputation.
Despite this, a dip in the pool's tranquil waters while you enjoy the breathtaking views should be uninterrupted if you avoid the worst of the tourist high times. This location is also close to the National Slate Museum and Llyn Padarn lake if you want to extend your visit.
Glyder Fawr
The 5th highest mountain in Wales at just over 1,000 ft, Glyder Fawr is often overlooked by its bigger siblings. While others climb Yr Wyddfa this provides a spectacular opportunity for a beautiful mountain hike.
The rocky outcrop of stones at the peak remind you of a fantasy battlefield, dragon's lair or even a modern film set like Game of Thrones. You could argue this provides a better picture opportunity than the peak of Yr Wyddfa – you could definitely argue it's a quieter one.
Moel Ty Uchaf cairn circle
A 12m across cairn circle consisting of approximately 40 stones (there is some debate) with beautiful views across the valley of Dee – situated just 25 miles from Hendre Rhys Gethin.
There's no signposts and the access is through a farm track so it's not the easiest to find or reach, but it leads to one of the most beautiful and oldest sites in Wales which will be much quieter than other locations.
It's previous uses are unknown with thoughts over a ritual or burial location but there is a 10 mile round walk from Llandrillo that also incorporates burial sites at Cadair Bronwen and Cadair Berwyn for the adventurous archaeologists among you.