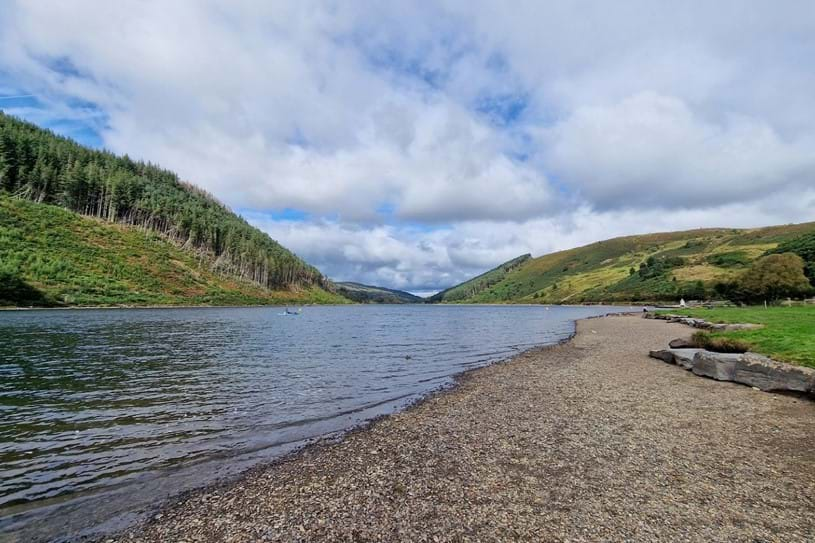 Discover the natural beauty of Geirionydd Lake in the Gwydir Forest, North Wales
Lake Geirionydd is a beautiful natural gem located in the Gwydir Forest Park, just a few miles from the town of Betws-y-Coed. This stunning lake is approximately one mile long and 60 feet deep, making it a popular destination for a range of water activities, including kayaking, paddle boarding, wild swimming and sailing. With its own slipway, Geirionydd is one of the only lakes in North Wales that allows power boating and water skiing, making it a popular destination for those looking for a more thrilling water-based activity.  Facilities include a car park, picnic area, and public toilets
The lake has long been a popular destination for visitors to North Wales, with tourists coming from far and wide to enjoy the stunning scenery and outdoor activities. There are several walking trails that offer breathtaking views of the lake and its surroundings, including the Llyn Geirionydd trail, which takes visitors on a circular route around the lake.
There's a monolithic memorial at the end of the lake. It was erected in around 1850 by Lord Willoughby d'Eresby of Gwydir Castle on the supposed site of the birthplace of the legendary Welsh bard and poet, Taliesin. This site is also the location where the poet Gwilym Gowlyd held his first Arwest in 1863, after being disillusioned with the formality of the Eisteddfod rules. The Arwest continued to be held annually at the foot of the monument until 1927. Taliesin is known for his poetry, which celebrates the military prowess and bravery of the Welsh rulers of his time, including Urien Rheged and his son Owain. His poetry is also characterized by its vivid imagery, complex metaphors, and use of alliteration and rhyme. The Taliesin monument collapsed during a storm in 1976 but was re-erected in 1994.
Below the lake lies the ruins of the Klondyke Mill. Built towards the end of the 19th to process lead and zinc ore from the nearby Pandora mine. Despite its association with the mine, the mill saw little usage and closed in 1911. In the 1920s, the mill gained notoriety as the site of a silver scam that gave it its current name. Today, the mill stands as a ruined tribute to the false optimism of the time and is the largest standing building connected to lead mining in North Wales. It is also a registered ancient monument under the guardianship of Cadw.
Whether you're looking for a peaceful day out in nature or a more thrilling water-based activity, Llyn Geirionydd is a beautiful natural wonder that has something for everyone. And with Hendre Rhys Gethin just a short distance away, it's the perfect place to stay for those looking to explore all that North Wales has to offer.