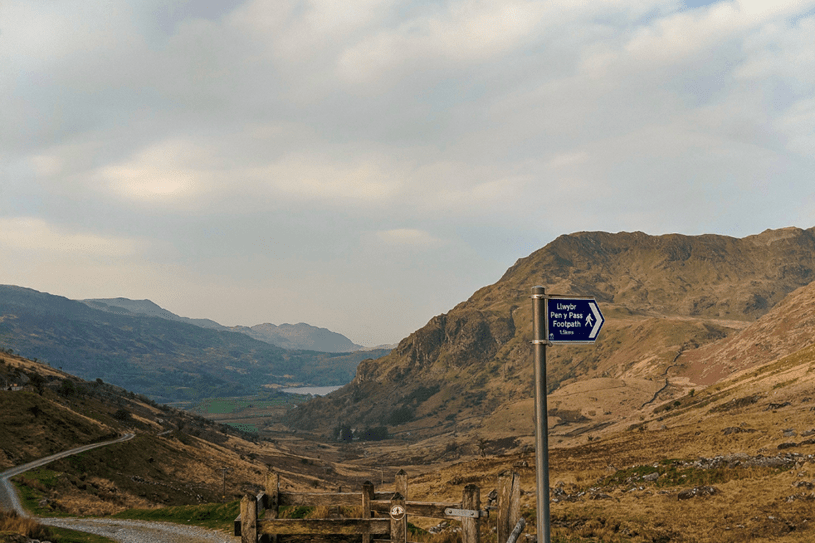 Discover Eryri in Autumn
Autumn is one of the most beautiful times of year to explore North Wales with the crisp air, tapestries of colourful foliage and the unique tastes and sounds that come with the end of the harvest season.
To make the most of this seasonal charm we've built up a 'Things to do guide' for Eryri and North Wales for when you're visiting a Hendre Rhys Gethin Luxury Lodge. This includes; scenic drives and nature walks, Instagrammable photography spots, autumnal activity opportunities, wildlife and birdwatching, festivals and food, stargazing, ghost hunting and everything pumpkin related!
Things to do in Eryri this Autumn:
Scenic drives and harvest hikes
At Hendre Rhys Gethin Lodges we're blessed to be situated right in the heart of the Eryri National Park, just a short distance from the internationally recognised beauty spot of Betws-y-Coed, so we're well used to our visitors making the most of the crisp Welsh countryside in Autumn.
If you're visiting us this season (or even planning for next year) we fully recommend getting out there and exploring, both by car and on foot, the incredible landscape around your holiday stay. 
First, for those looking to get around by car, you can turn onto the Crimea Pass (A470) just a couple of minutes from our lodges and quickly see the Dolwyddelan Castle in all its glory, bedded in a sea of yellowing foliage. From there you might want to continue through Blaenau Ffestiniog and towards Portmeirion before returning to a couple of the most popular routes – the Llanberis Pass (A4086) and Nant Ffrancon (A5) where you can see incredible mountainscapes and waterfalls amidst the changing forest canopy.
If you'd prefer to walk there are endless hiking trails in Eryri to embark upon (discover more of these here), but of those with the most autumnal charm, we recommend trying put the Snowdon Ranger Path or the Aber Falls Trail that both look particularly enchanting in the failing Autumn light.
Stargazing in North Wales
Talking about the failing Autumn light, you could do worse with your visit to Hendre Rhys Gethin than to plan in some time for a little stargazing! This time of year is ideal for night-owls to explore the evening skies, which are generally clearer during Autumn.
There are a myriad of locations to choose from with many North Wales spots free from the light pollution generated by big cities. Our choices would be to look into spending the night at Llyn Idwal for a riverside experience, utilising the Snowdonia International Dark Sky Reserve for some star-spotting or tripping over to Ynys Môn and even spending a few hours at the beach with the tides out to lose yourself in the clear air.
Autumnal beauty spots (for photography)
If you've got a passion for photography or love an inspirational Instagram post, then you really should be no stranger to the Eryri National Park. There are stunning and picturesque locations as far as your travels can take you, but in Autumn some stand out more than others for their dramatic change in colours.
Our picks to target are; Llyn Padarn with some picture-perfect reflections off the lake's waters, the Afon Llugwy river, that flows through Betws-y-Coed and is lined by thousands of colourful trees, the shores of Llynau Mymbyr and, of course, the village of Portmeirion – already beautiful in the summer, but with an added twist of wistful melancholy as the yellowing leaves descend upon the beautiful architecture.
Also, don't forget to arrange a visit to Bodnant Gardens – a majestic outdoor garden, owned by the National Trust (free to members) with the Bodnant Welsh Food Centre just down the road – ideal for picking up authentic local cuisine.
Wildlife and birdwatching
While we're on the topic of stopping and taking in the Eryri scenery, a spot of wildlife and birdwatching wouldn't go amiss as the abundance of animals born in the spring are in full repartee by Autumn.
Known for it's red squirrels, otters, deer and even beavers – the Eryri National Park is full of potential opportunities to gaze upon the beautiful wildlife. Meanwhile, twitchers can delight in an exposure to chough, black guillemot, red kites and more if you spend time in one of the national park's many nature reserve spots.
Outdoor activities
North Wales is obviously crammed full of opportunities to try outdoor pursuits and with the cooler weather and crisper air abundant in Autumn, some of them become more hospitable to accomplish compared to the scorching summer temperatures!
Activities like mountain biking, horseback riding and rock climbing are all available in Eryri with some hidden local perks in your adventure. We recommend cycling enthusiasts try the visitor centre at Coed-y-Brenin where you can enjoy a quick pitstop with one of their sustainable venison burgers – farmed by using the on-site fallow deer.
On top of these traditional pursuits you can, of course, also venture out to the more well-known attractions such as a climb to the top of Yr Wyddfa, a day at one of ZipWorld's many family activity sites or an active afternoon splashing about in one of Eryri's watersport destinations, such as Llyn Tegid or the River Tryweryn – which is home to the national white water sports centre.
Events and Folklore
When visiting this autumn it's often worth keeping an eye out for the villages you drive through to see when they are running their local harvest festivals. They're not often advertised in advance but you can get real local cuisine, authentic Welsh entertainment and a cracking atmosphere from some of the smaller celebrations dotted around Eryri.
You may also notice Calan Gaeaf advertised in some places. This is the first day of winter in Wales – observed on 1 November - when games, dancing and feasts are traditionally enjoyed to help ward off the local spirits (avoid the churchyards!). 
However, if ghost-hunting is your thing and you'd rather seek out the supernatural, the earlier Autumn evenings offer more time for nocturnal encounters. While there are many ghost stories in and around North Wales, you'd be wise to start with Plas Mawr and hunt the haunted house, looking for former owner Robert Wynn as he searches for revenge or, take a look around Penrhyn Old Hall during one of the ghost hunting events and come across the young girl murdered by her sisters for trying to marry outside her faith.
Finally, it wouldn't be a guide to Autumn without mentioning the pumpkin! North Wales has a number of local pumpkin farms where you can pick up your own produce ready for Hallowe'en and, in some cases, even carve them in special open artistic sessions so you can pick up some ideas. A few locations to check out include; Hootons Farm Shop (Ynys Môn), Ty Bugail (Ynys Môn), Foel Farm (Ynys Môn), The Farm Gate Mynytho (Pwllheli) and Manorafon Farm (Abergele). 
Whatever you decide to do with your time in North Wales this autumn, we hope to be a main feature of your experience. With evening lighting, hot tubs and warm cosy bedrooms available in our lodges and cottages, you'll be able to soak in the best of the Autumn atmosphere at Hendre Rhys Gethin.