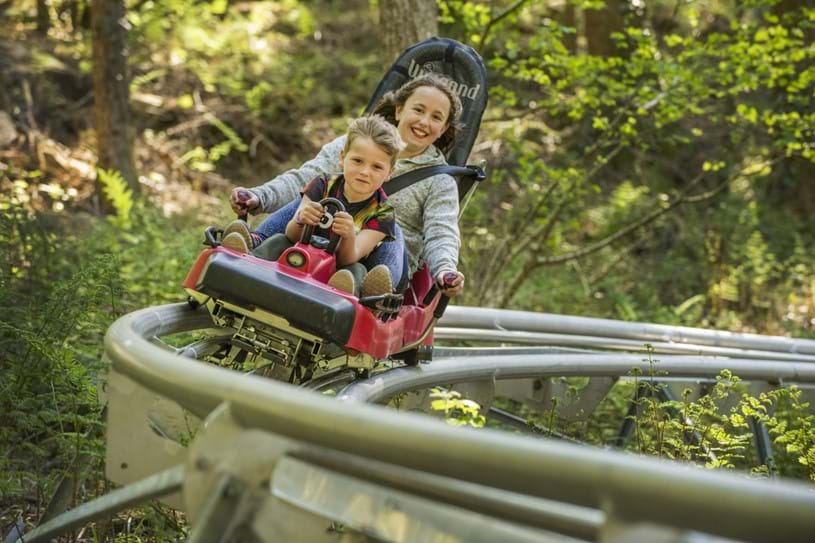 Zip World Fforest: An Adventure Park on the outskirts of Betws y Coed
Zip World Fforest is a family friendly adventure park on our doorstep. With a range of thrilling activities, including ziplining, tree-top adventures, and a forest coaster, it offers a unique and exhilarating experience for visitors of all ages.
One of the park's most popular attractions is the Fforest Coaster, which takes riders on a thrilling journey through the forest on a toboggan-style ride. With twists, turns, and thrilling drops, this ride offers an adrenaline-fueled adventure for visitors of all ages.
Another popular activity at Zip World Fforest is the Tree Top Nets, which allows visitors to bounce and play in the treetops on giant trampolines. With nets stretched between the trees and bridges to cross, this activity offers a fun and challenging experience for visitors of all ages.
For those seeking even more adventure, the Zip Safari takes visitors on a journey through the forest canopy on a series of zip lines and rope bridges. With stunning views of the forest and surrounding mountains, this activity offers an unforgettable experience for adrenaline junkies.
Zip World Fforest also offers a range of other activities, Tree hoppers mini assault course, Plummet 2 a 100 ft freefall drop and Skyride 2 a giant 5 seater swing.
The park is set within the beautiful surroundings of Gwydir Fforest, with stunning views of the surrounding valley. It is only a short drive from us at Hendre Rhys Gethin and offers a great day out for visitors of all ages.
Overall, Zip World Fforest is a must-visit destination for anyone looking for an adrenaline-fueled adventure in North Wales. With a range of exciting activities and stunning scenery, this adventure park offers a unique and unforgettable experience for visitors of all ages.